At Zephyr Engineering, we have the equipment needed to successfully manufacture your project.
AMADA FO 3015 NT LASER
The FO 3015 NT is engineered to meet the high quality and shorter lead time demands of today's fabricating companies.
FEATURES:
Maximize utilization with minimal setup between jobs.
High speed processing of thin and thick materials.
Operator-friendly windows-based network compatible control
Performance-proven rack and pinion drive system in the X-axis and high-precision ball screws in the Y and Z axis.
High-speed shuttle table design improves overall machine utilization by externalizing the material setup process.
Cast iron frame for superior stability.
Water Assisted Cutting System (WACS™) uses an adjustable water mist to absorb heat generated by the cutting process.
Cut Process Monitoring for automatic pierce detection as well as plasma detection for thick stainless steel and aluminum.
Interlocked enclosure surrounds cutting area to ensure safety.
AMADA/FANUC RF excited resonator provides unmatched performance and reliability.
Automation ready.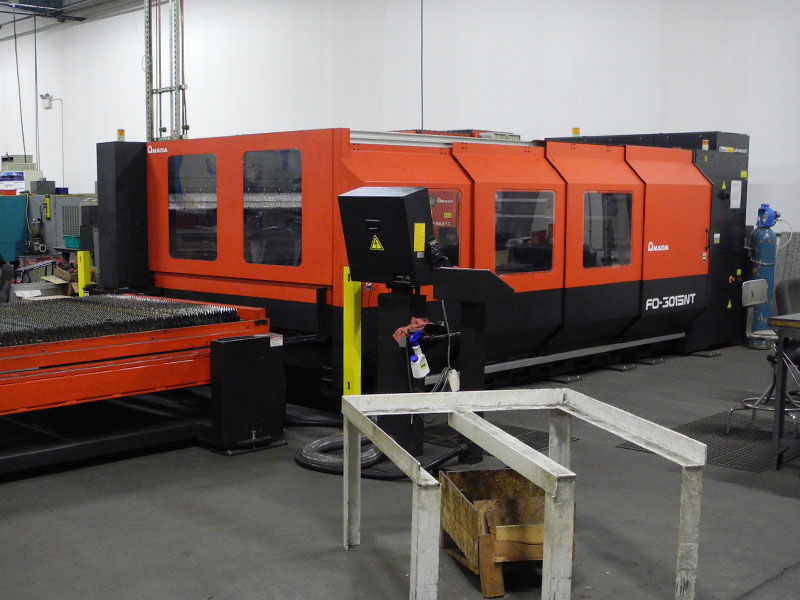 AMADA HS 1303 PRESS BRAKE
Built on the solid foundation of the HFE M2 Series, Amada's HS press brake series includes additional production-enhancing features and an innovative touchscreen NC Control. Overall design improvements result in an eco-friendly series that provide maximum performance and ease of use. Equipped with an energy saving drive — the inverter on the HS series reflects Amada's ongoing commitment to environmental protection. The new drive system uses a frequency inverter that controls the motor pump and ensures efficiency by operating only when necessary. The system continually monitors and self-regulates bending requirements — this translates to using 20% less energy, a significant reduction in maintenance requirements, less oil consumption, lower noise levels and an increase in reliability.
FEATURES:
Numeric Control (NC) – The AB PAD is equipped with an intuitive touchscreen interface. Users can also remotely monitor the operation of the machine, transfer programs and perform diagnostics.
Multiple Axis Backgauge – The light weight but rigid design allows for high speed and precise positioning. With the gauging capacity of up to 40", large components can be easily processed. In the 6-axis version, the modules L1 L2 and Y1 Y2 are programmable independently, offering greater backgauge flexibility.
SGRIP Punch Holders – Allows the brake operator to change punches on the press brake quickly and safely without requiring a wrench. The patented SGRIP design dramatically decreases tool changeover time, thereby increasing bending productivity.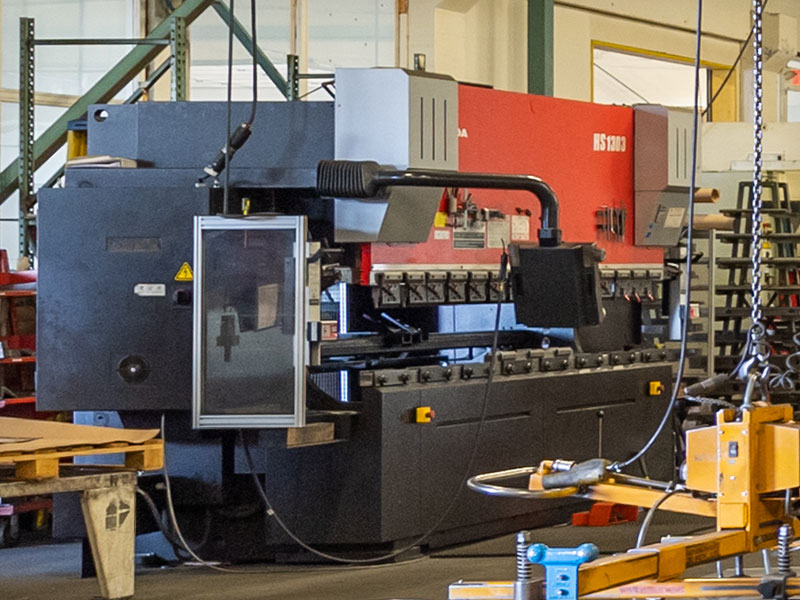 HURCO TMM10 LATHE
The TMM mill turn machines are true slant-bed lathes equipped with live tooling. These lathes are perfect for small to medium lot sizes that require turning and secondary milling/drilling operations. Saving time with one setup and improving accuracy without the need to refixture.
FEATURES:
3" through spindle bore with 11.6" maximum turning diameter.
12 station live/static tooling turret allows milling operations as well as standard turning and boring.
Multiple operations in one machine improves overall part accuracy.
Constant surface speed for superior part finish and optimum tool life.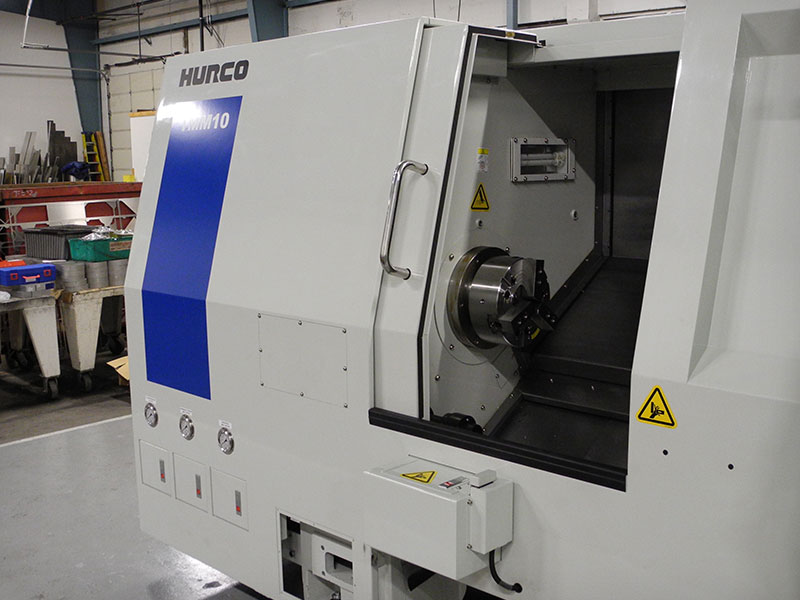 HYD-MECH H-12A CUT-OFF SAW
FEATURES:
12" x 12" capacity.
Automatic programmable feed system for precise and repeatable cuts.
Extended in feed bed allows 22′ material lengths.
Variable blade speed helps optimize cutting a wide variety of materials.

Vises are extremely heavy duty and feature a 40" shuttle with multi-indexing capability.